Words by Emily Kearns, a CAPA Florence study abroad alumna. Emily will be writing a column called "Remembering Florence" on CAPA World the first Friday of every month.
- - -
After talking to a lot of students recently who just started thinking about studying abroad and are unsure of where they'd like to go, I've started to think more about how and why I chose Florence as my study abroad city. Here are some of the reasons why I ultimately decided on this wonderful Italian city, and why (if you haven't already) I think you should consider it as your study abroad destination.
1. The Size
Being from a small town and going to school in a semi-small city, I knew that a big city like London or Rome would be a bit too overwhelming for me. I felt that I would thrive in a smaller city, like Florence. Before making my decision, I talked to a few Florence study abroad alumni who all told me that they loved the size of the city—it wasn't too big or too small. In Florence, it's easy to walk everywhere you need to go and there's no complicated transportation system you need to navigate, which can make the experience a lot less overwhelming for students if it's their first time out of the country. However, Florence isn't so small that there's nothing to do. There's always something going on, a new area to explore, or even just a new street to wander! It's the perfect size, in my opinion, and I tell students that all the time.
2. The Location
If you look at a map and see the geographic location of Florence, it's pretty obvious that it's a nice, central location in Italy. I definitely took this into consideration when choosing my study abroad city because I wanted a location that would allow me the ease of travel to other places in Italy and around Europe. While it's typically easy to travel to/from any city, I loved the location of Florence and how simple it was to either take the train to another Italian city, or hop on a plane and head to a different country in Europe for the weekend.
3. The Food
While this wasn't the number one factor in my decision, it definitely played a part. If I was going to be living in this city for four months, I wanted to be able to find delicious food that I could enjoy every day! Food plays a big part in a country or region's culture, so by eating your way through Florence, you can also learn a lot about Italian culture. Italy is obviously known for its delectable meals, and I wanted to take advantage of this opportunity to get a real "taste" of the city I would be living in.
4. The History and Art
Florence, and Italy as a whole, is filled with SO much interesting history, and I thought it would be fascinating to study in an "older" city where I could walk through the streets and admire the history, architecture, and the beautiful art that dates back hundreds and hundreds of years ago.
5. The Views
Honestly, a big part of what helped make my decision to study abroad was looking at pictures, reading blogs, and watching videos! By doing this, I was able to get a glimpse into what my potential new home would look like, and there's no denying that Florence is absolutely beautiful (one of the most photogenic cities in the world, in my opinion). I'm not going to lie—seeing pictures of the city from Piazzale Michelangelo really fueled my desire to go to Florence!
6. The Language
I knew that when I studied abroad I wanted to go to a country whose native language wasn't English. I thought it would be amazing to go immerse myself in the Italian culture while learning a whole new language. I took Spanish classes for most of my life so I considered going to Spain, but for some reason I was drawn to Italy. However, since they're very similar, I knew that my background in Spanish would help me a bit as I learned Italian. Italian is such a beautiful language and it was a blessing to be surrounded by it for four months!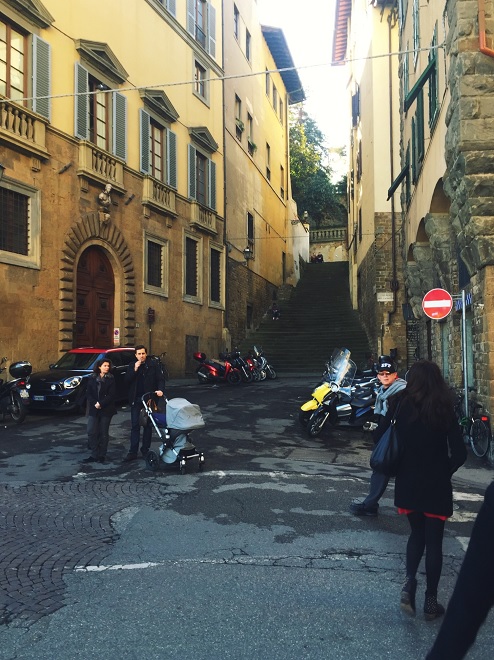 Study abroad is a big decision to make, so it's important to take into consideration the "big" things (like the prices and academics), but also the "smaller things" (like the food)! And while there are about a million other reasons I could list off about why you should choose Florence as your study abroad city, the six listed above all played a significant part in my decision to study abroad there!
Thanks Emily!