In Barcelona, at the time of writing, $10 USD buys you €8.76. If you're on a tight student budget while you're studying abroad, know that you can still have a great time in the city! We've rounded up 10 fun and/or useful experiences or things that this amount will buy. We will save the freebies for another post, so stay tuned for those.
1. Rent a Bike
Even better, rent a bike near the beach and spend an hour rolling down the coast with the wind in your hair, breathing in the salty Mediterranean Sea air. Or head over to the flat and quieter streets of the old industrial area of Poblenou to avoid some of the crowds. Time Out Barcelona has a cycling guide to the city (free online) with some recommended routes. A few words of wisdom: Watch out for pedestrians (who have the right of way), stay within the speed limit, go slowly, and make sure you lock up your bike well if you step off for a coffee or a look around a park.
Cost: €2 per hour from Green Bikes Barcelona for a one-off experience.
2. Explore Park Güell
Taking a break at Park Güell.
Designed by Barcelona's most famous architect Antoni Gaudí, Park Güell is as colorful and surreal as you would expect. Gaudí even lived in a house on site here, now transformed into the Gaudí House Museum. Declared a UNESCO World Heritage Site in 1984, it is well worth a look around. Check out Gaudí's mosaic salamander (el drac) at the main entrance, the intricate details of the walls around the main terrace, the colonnaded footpath beneath the road, tiled ceilings, wildlife and panoramic views.
Cost: €7.50 online, in advance; €8.50 at the ticket office
3. Relax in Parc del Laberint D'Horta
Photo credit: From donvertini via Flickr.
There's a small entry fee to visit Barcelona's oldest garden on the grounds of Torre Soberana, a 14th century house, but it is truly a beautiful place to while away an afternoon. Designed by Italian architect Domenico Bagutti in 1791, the gardens are still very well-preserved. There are flower beds, woodlands with ancient sequoia trees, waterfalls, streams, ponds, canals, landscaped squares, and sculptures of mythological figures throughout. Plus, there is an incredible maze with high hedges to work your way through and who can resist a good challenge?
Cost: €2 entry fee
4. Eat Tapas in Poble Sec
Spanish tapas.
There's a famous 'pintxo street', usually full of locals, where you can find a handful of different venues that sell super cheap tapas. Make your way to Calle Blai and work your way up. One of the best places along the route is La Tasqueta De Blai (very highly rated on Trip Advisor, if you were wondering). The tapas are laid out on the counter, each with a toothpick (these are important). Take what you want to eat, save the toothpicks, and pay for what you've eaten at the end. Go early because with the great food, prices, and wonderful atmosphere, it fills up quickly!
Cost: €1-2 per tapa, so up to you how many you want to eat!
5. Watch a Movie Outdoors
Barcelona runs several open air cinema events, but whether you'll be able to catch one depends what time of year you're in the city (if not, indoor cinema is good too). One of the best outdoors is Sala Montjuïc (etc. 2003!) at Fossat de Santa Eulàlia moat, Montjuïc Castle. Check the website for the season program and dates. Last summer's sessions included "West Side Story", "Snatch", "Manchester by the Sea" and "The Shape of Water". Many of the movies are screened in English with Spanish subtitles and you're also treated to a live music session before the film begins.
Cost: €6.50
6. Be Inspired at Museu del Disseny

Barcelona's design museum has a great collection of 70,000 items including furniture, 20th-21st century fashion, decorative arts, graphic design posters, wallpapers, and more. If you love a creative glance through history, don't miss it. Future exhibitions include a look at the advertising boom from 1890-1950 (specifically tin, cardboard, and tile posters) followed by a retrospective exhibition on designer, author, and activist Victor Papanek titled "The Politics of Design." The museum opened in 2014 with an aim to help establish Barcelona as a European design capital.
Cost: €6 general admission, €4.40 just to visit a temporary exhibition, or €8 for both permanent and temporary admission. Check the website to see if you qualify for reduced admission prices.
7. Hop on a Bus
Get to see Barcelona on your own time and accord.
For the price of a bus ticket, explore a new neighborhood (or several). We love heading out with no expectations and letting the interesting sites guide our way through the afternoon before finding our way home. In a big city, there is always something interesting happening which means you're bound to come across plenty of free entertainment along the way, not to mention photo ops. Barcelona is a leading SmartCity and has plenty of free WiFi everywhere from bus stops to parks, so download some useful navigation apps like Citymapper and find your way around like a local. Expensive bus tours are for tourists!
Cost: €2.20 one way
8. Treat Yourself to Something Yummy in the Markets
The variety of food you'll see at Barcelona's markets!
Barcelona's markets are (mostly) free to enter. (Though we'd recommend shelling out a few euros to see Palo Alto the first Sunday of every month in Poblenou.) Head over to the famous La Boqueria or a quieter market like La Llibertat in Gràcia and choose yourself a treat, like a piece of fresh fish, a block of delicious cheese, a cheap tapas lunch or, depending on where you go, a plant to bring your host family, a new t-shirt, or souvenir.
Cost: Varies, depending on what you choose to buy!
9. Caffeinate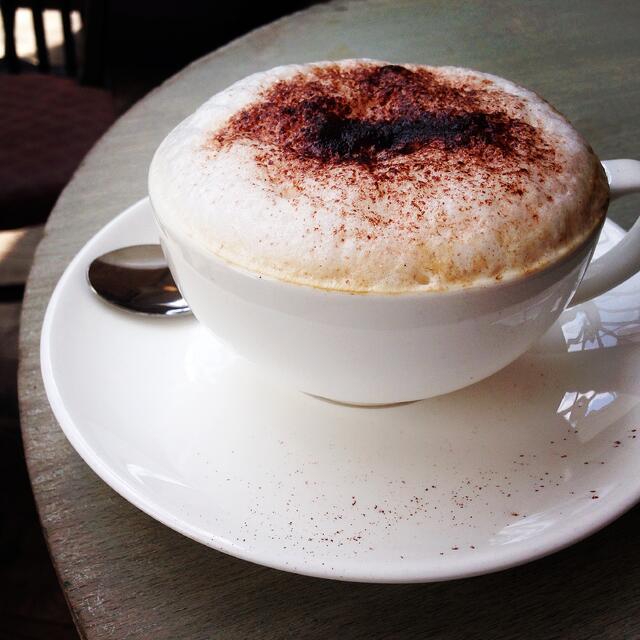 Come find your caffeine friend in Barcelona.
Barcelona has some stunning cafes. There's the cozy Espai Joliu in Sant Martí which is also a plant-filled concept store with free WiFi, popular with students. There's photo-worthy, local-fave Café Cometa in Sant Antoni with its Scandi design and delicious cake. There's Hidden Cafe in Les Sorts where they take their coffee seriously and even offer a matcha bar. If you're a true coffee aficionado, it has to be one of the three branches of Nomad. Onna is a good choice too. You're spoiled for choice here. Pick one, order caffeine, and chill out with a book, homework, Instagram, or friends for an hour or two.
Cost: Depends on the cafe and whether or not you have cake, but within budget!
10. Explore Montjuïc
Just one of the many views at Montjuïc.
Stay all day on the magical mountain of Montjuïc and have a great time without spending much money. Pack a picnic lunch. Pay a small entrance fee to the castle and take in the incredible views over the harbor. The local area has a lot to see. The Joan Miró Foundation, one of the biggest art galleries in Barcelona and completely dedicated to a world master of surrealism and one of the most important artists in the city's history, is free with a Barcelona Card. Also, check out the Grec Theater Gardens, and the Montjuïc Municipal Pool from the Olympics (and Kylie Minogue's music video "Slow").
Cost: €5 castle entrance fee plus transportation to the area