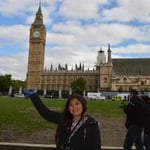 Taylor Lopez is an official CAPA blogger for summer 2015, sharing her story in weekly posts on CAPA World. A communications major with a minor in cyber security at the University of Maryland University College Europe, she is studying abroad in London this summer.
Below, Taylor talks about arriving in London and life in Camden where she will be living for the summer.
- - -
When I landed in London, I couldn't help but smile because I looked out my window and noticed it was raining outside. I was greeted with raindrops because this is England and what else would I want? Despite realizing I'd forgotten to pack my umbrella, it made me happy to see the gray skies because it brought back memories from my last visit. Or it could've had something to do with only getting two hours of sleep the night before. Either way, I couldn't wait to get off the plane, grab my suitcase and set off to the bustling streets of London.
Continue Reading →