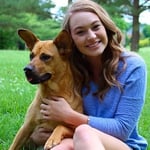 Ashley Welch is an official CAPA blogger for summer 2015, sharing her story in weekly posts on CAPA World. An economics major at Clemson University, she is studying abroad in Dublin this semester.
In the post below, Ashley shares her top four restaurants in Dublin.
- - -
After living in Dublin for a while, my friends and I have discovered a few favorite restaurants that I would like to recommend. Most of these are inexpensive and cover a variety of foods, helping one to experience some of the different options that Dublin has to offer.
1. THE VINTAGE KITCHEN. The Vintage Kitchen is a wonderful Irish restaurant that can be found on a side street off of Burgh Quay near the River Liffey. I saw reviews for the restaurant on TripAdvisor and suggested that a few of my friends and I go get lunch there. After a bit of walking, we arrived at The Vintage Kitchen and realized that, while it was a casual atmosphere, reservations were sadly required to be seated since the restaurant is so popular. The waiter, however, was more than kind and managed to fit us in after a ten minute wait and serve us for lunch. The entrees ranged from €10-16, but the food was well worth it. I got the lamb shank and potato mash, and it was honestly the best Irish food I have eaten so far in Dublin. Everyone at lunch enjoyed their meals and the portions were far larger than expected, making this meal well worth the price.
Continue Reading →