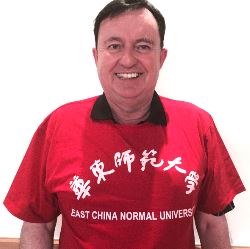 "Connecting Global Cities" is a monthly column written by Colin Speakman, Resident Director for CAPA Shanghai.
- - - -
Now readers might well say "Thanksgiving is an American concept." Yes, it is celebrated in the US on the fourth Thursday of November each year, the first one credited as being by the pilgrims in 1621 and celebrated nationally from 1789 following a proclamation by President George Washington. It is a public holiday as is the Friday afterwards, which, as I'm sure you know, is a shopping day known as Black Friday with major price reductions.
However, we are about globalization and in such an era, American Thanksgiving (and indeed Black Friday) finds its way into many cities around the world, though not with any accompanying public holidays. I have celebrated Thanksgiving with American students in London, Beijing and, this year, it will be in Shanghai. International chiefs compete to show their skills in creating an authentic - or sometimes not so authentic - dinner.

Photo: A Thanksgiving turkey by icoNYCa
The essentials in China are seen as turkey, stuffing, cranberry sauce, pumpkin pie (some also provide pumpkin soup) and assorted vegetables that seem to vary by location. In China, the main location for celebrations is in big cities, in American diners and sports bars with modest size restaurants, and the large restaurants of American international hotels. Prices vary, but it is hard to find a good multi-course meal under 300 rmb (approaching $50) a head and quite easy to find such at double the price. Even Mexican and Spanish restaurants get in on the act with a special version. Since it is not a holiday abroad and locals are working, special dinners are usually offered over three or four days, including the adjacent weekend.
Continue Reading →